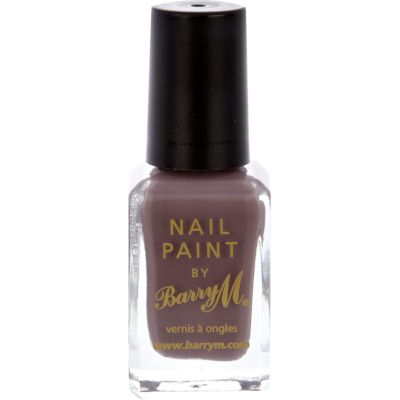 Barry M - 341 Cappuccino
Hi guys!
I'm back with another NOTW: since the weather is quite sad here in Belgium (rain, snow, hail, ...), I decided to match my nails to the typical Belgian weather: gloomy and dark!
I bought myself a Barry M nail polish a few months ago, but I was never in the mood for a dark polish as soon as it ended up in my mail (typical, right?).
Orgasm is to Nars as Rage is to Orly as Cappuccino is to Barry M.
Point made clear I believe? :)
It's a taupe color that is a true winter color, but since it feels like winter the entire year in Belgium, I thought I just couldn't go wrong with this goodie.
It looks like a greyish/brownish purple that needs 2 layers of polish, because it doesn't apply completely opaque from the first time on. It's just one of those colors that are being called
pugly (a pretty ugly)
very easily because of its muddy color. But hey, it makes your hands look clean and polished. Yay for posh looking polishes!
To be quite honest, I stayed away from dark colors for quite some while, because I was in need of bright, fun colors. But this color...dang!
For those who are a bit afraid of really dark colors such as dark colors or simply black, give this one a go. It's a nice transition to go from something colorful to something darker. Just see it as a 'light' dark :)
Is there any other Barry M polish you think I should try?
What is your favorite nail polish one?